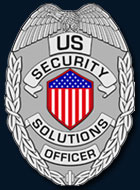 US Security Solutions is confident in our ability to provide superior security guard services to our clients that will exceed their expectations in the servicing of the contract. Our blended approach gives us enhanced recruiting, management, and security experience to properly staff and manage any small to medium size armed or unarmed security contract. Our careful personnel selection and higher than industry average pay ensures that we employ and maintain only the best and most professional officers in the industry. Our competitors simply cannot or perhaps refuse to compete on a guard to guard quality basis; as they typically compete only on price. Our "Best Value" approach is to recruit and train quality guards, pay them well, and demand top performance from them. It is our experience that this formula works especially for those clients that expect a greater level of service.



Our professional security guards are trained to treat our clients and their guests with the utmost courtesy and respect while still maintaining an authoritative presence for the client. We believe that our security officers are walking business cards for our company and we expect and hope that we will be judged by our officer's performance and professionalism. Each security officer will reflect the expertise, high level of training, and specialized experience to meet or exceed Client expectations.



US Security Solutions is based locally and is an owner/operated small business interest; we are involved in every aspect of the guard services that we provide from beginning to end. Because of that we believe that we can provide better and more personalized customer service than our larger competitors. It is not unusual for senior management to stand the post with our officers for coverage, to assess the effectiveness of our security plan or to evaluate and maintain a higher level of customer service and professionalism. We provide senior management level responses to client concerns and are available to our clients 24 hours a day; we are proactive and always look for ways to improve our service.